One of my favorite smoothies that I could have all day, every day, is a blueberry smoothie. It's really delicious and super good for you.
To balance an overactive INSIGHT aspect or third eye chakra, Dr. Minich, founder of Food and Spirit Program, suggests to eat 3-5 servings of blue-purple foods weekly. This is the one color of foods and people don't eat enough of!
Therefore I wanted to share with you a delicious Blueberry Smoothie for an OVERACTIVE third eye chakra. It has always been a favorite of mine for years and it's simple too.
How do you know you have an overactive third eye chakra?
You may have an addiction to caffeine, crave chocolate, or foods tend to change your moods quickly.
To balance out an overactive third eye chakra – take in those blue and purple foods!
***
While sipping on your blueberry smoothie, hold an amethyst in your hand (it can be a tumbled or cluster, whatever you have) and visualize being still and calm. Imagine the Divine source flowing into your third eye as a purple beam, visualize yourself seeing clearly on every level on every aspect, in every direction.
You can even add in a chant or music while you hold this space for yourself. Mindfully focus on your third eye.
Sip on your smoothie without interruptions. This is your time for you.
You can also follow up in your journal with your feelings and thoughts on your third eye as well.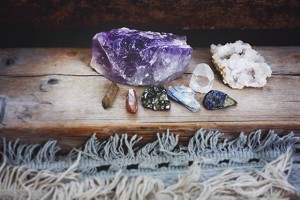 ***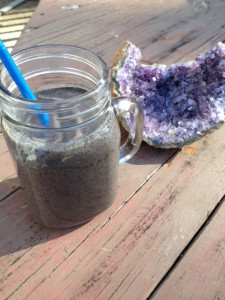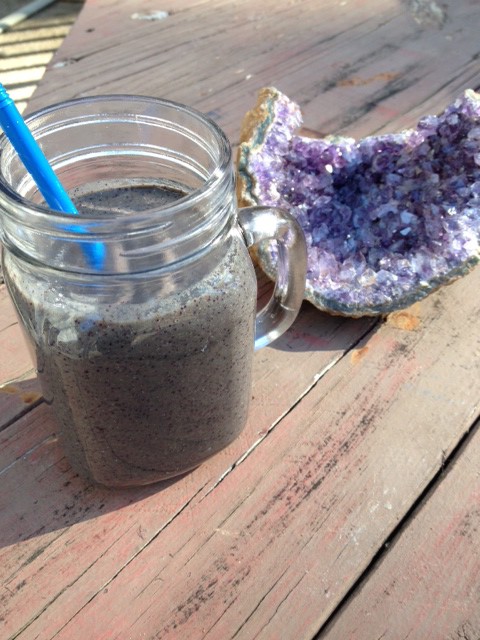 Smoothie Ingredients:
1 cup frozen blueberries
1 cup almond milk (milk of choice)
1 banana
1 scoop of protein powder
1-2 cups greens (I always change mine up.)
1 tbs chia seeds
1-2 dates or 1 tsp honey for sweetener
Blend and Enjoy!
Amber is a Food and Spirit Practitioner who helps clients through a variety of healing modalities. To work with amber, email her at thechakradiva@gmail.com