Summertime is filled with delicious, scrumptious treats from the garden!
Although, my garden can't grow pineapples or mangos – so I have to use someone else's garden. hehe.
A few weeks ago, my husband and I attended a cookout over a friends house. We had the freshest salads, grilling entrees, corn on the cob and avocado salsa. It was devine!
As a parting gift, my friend gave us a pineapple and we gave her sweet cantaloupe. I knew exactly what I wanted to do with it – make pineapple mango salsa!
***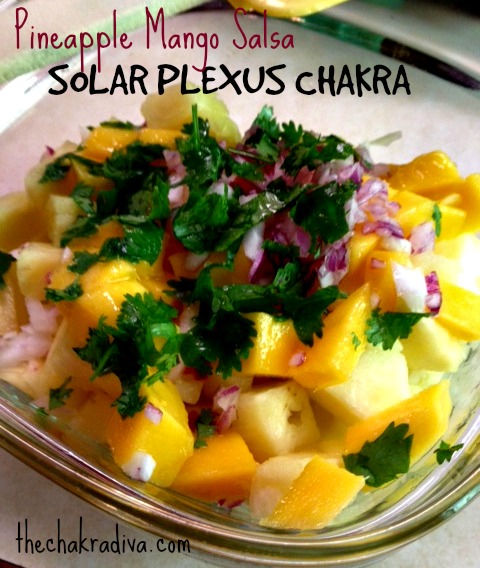 Ingredients:
Fresh pineapple

Mango

Cilantro

Red Onion (as much as you'd like)

Jalapeno (optional)

Lime

Salt
Directions:
Cut the pineapple, mango and red onion.  Place into a bowl. Add in cilantro and squeeze over lime. Add some salt and stir to combine.
*If you'd like to add jalapeño for a kick, feel free to do so. My kids aren't fans so I leave it out.
How to eat pineapple mango salsa?
By itself

Over grilled chicken

With chips

Over salad
This dish is for your solar plexus: mangos and pineapples are the star ingredients for this one. Everything is fresh, gluten free and of course, DELICIOUS!