Chakra Coaching
From Psychic Development to Goal Setting to Building Relationships to Hearing Your Higher Self and everything in between…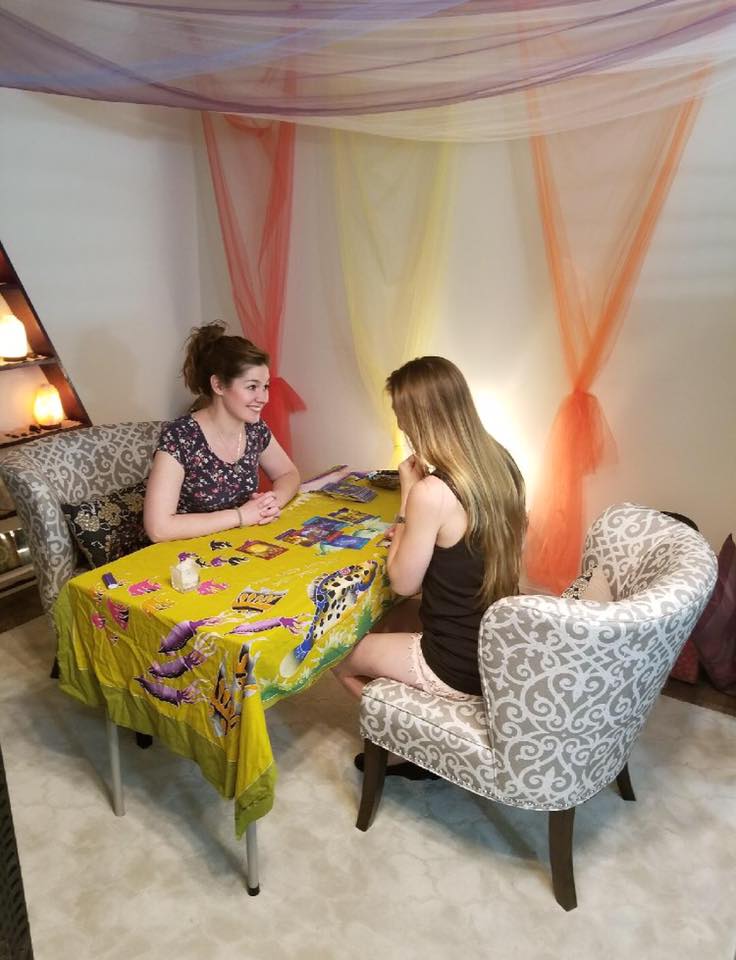 In my work as a Chakra Energy Healer  I found my clients saying the same thing…
"I keep telling people I felt like I had a combo touchless massage/therapy session. I don't know how else to say it, but it was that sort of relaxing feeling post-session." – David D. of Baltimore

"You have an amazing gift and beautiful spirit. I can't thank you enough for what you did for me. It was a very eye opening experience and I left very hopeful about my future. Thanks to you." – Gracie, PA.
***
As an energy healer, I move the energies around a clients subtle body and use my keen insight to know what cords and attachments are being held to a person. We dig down to the core thought/belief that is creating these attachments and homework is provided. 
As an chakra coach, I navigate through your chakras and help you uncover some of the beliefs to help give you the push you need. In addition, I help connect you to your Higher Self. Your Higher Self already knows the answers and sometimes we have to just do a little digging! 
I'm like a spiritual mentor – I talk to your guides above and help you to move forward. What does chakra coaching consists of? Everything unconventional that's for sure!
HOW THE PROCESS WORKS: 
First, I look at your subtle body energy flow, by calling in your spirit guides to understand any energetic blockages throughout your chakras. I address the Earth Star Chakra all the way up to the Crown Chakra. Here, I look at  the energy flow of your system. 
Then a reading takes place. A chakra reading to find out what your chakras are craving for to become in a state of balance. This reading can also present the future and a story as well.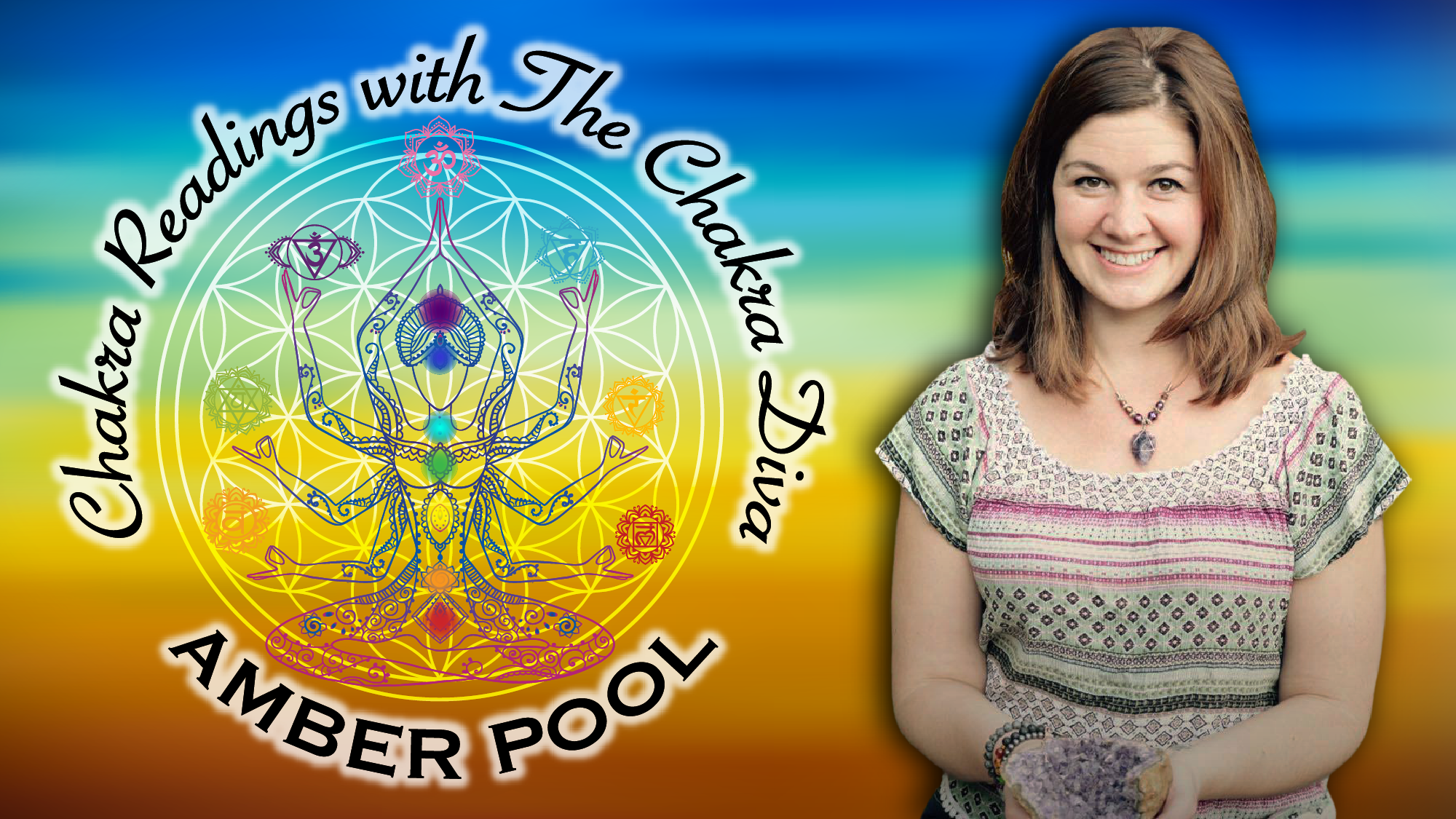 ***If you are interested in an Intuitive Chakra Reading ONLY, click here.***
***
What do you desire? What do you crave for in life? We do some goal setting! 

As a Chakra Coach, I help people change their habits. I am an advocate for living a healthy, happy lifestyle, a teacher of transformation, and an accountability partner to keep clients striving to reach their ultimate goal.
**I DO NOT  prescribe medicine or take the place of a medical professional. I am a motivator, a coach, to gently nudge the client toward lasting results and lifestyle change using holistic and natural methods.**
As long as you are motivated to do the work, I stand by you as a kick ass chakra coach.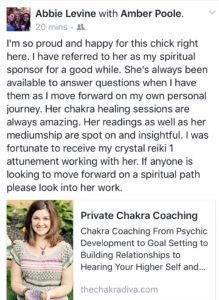 MY COACHING PACKAGES
Power Me UP! 
What's included:
Analysis from spirit determining the flow of energy through your chakras.

75 minute Conversation  where we look at challenges, barriers and SOLUTIONS

Intuitive Guidance Reading + Mini Crystal Reiki 
Techniques to connect in with your Higher Self and Source/Spirit 

Personalized Plan to move you ahead 
This is a one-stop shop! If you need some intuitive guidance to help push you through a situation and check in with your guides, this is for you! Sometimes we just need a little support in moving us forward, Spirit can and will!
$176
Mentor Me!
Sometimes we need a mentoring partner and someone to help keep us on track. This package includes more support to help you on your goal.
Includes:
3x – 60 minute phone calls, bi-weekly to assist in removing blocks and barriers and keeping you on track

Personalized plan of action 

Intuitive Chakra Reading 

1 hour of crystal reiki: removing past blockages, ancestral ties and more

Tools to raise your vibration to continue on with your success
**Payment plans are available.**
$444
The Spiritual Make Over
This is an extreme transformation! If you are ready to include Spirit in your life, this is for you! You will learn techniques from grounding + being aligned to live spiritually, practically and with purpose. 
8x – 60 minute bi-weekly phone conversations identifying everything from barriers to miracles

Steps to achieve your BIG time goals

Learn to connect in with your Higher Self and clear chakras on all levels (mind, body and spirit)

Intuitive Guidance Reading

2x – 30 minute Crystal Reiki sessions

Learn to attract the things you truly desire!
**Payment plans available.**
$1244.00 USD
Ready to move into action? Email me for a 15 minute consultation.
thechakradiva@gmail.com  
"Thank you kindly for the healing, the crystals and all the information … you have affected me deeply and in ways you will never know…everyone could benefit from your healing… in fact, I am already referring people to you.." Gwen