I want to send a big heartfelt thank you for spreading the love of what I do.
The Chakra Rewards Program (CRP) is a way to say THANK YOU and share my gratitude with you.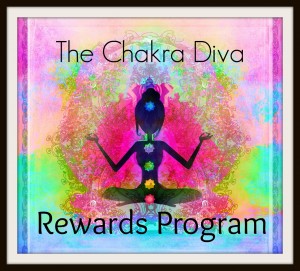 EARN POINTS
You can earn points to receive:
Free Healing Session(s)
Attend a live or online workshop at NO COST
Free one-on-one consultation
Free merchandise
How does it work?
For every person you refer to The Chakra Diva website or The Chakra Diva Facebook, you earn points. Those points can be turned in to redeem special elite perks.
How to Score Points:
Referral to site: If you refer a friend to The Chakra Diva Facebook page or The Chakra Diva website, make sure they leave a comment and tell me who referred them. You will receive 15 points for each referral.
Want a free healing session? Have a friend book and attend a healing session and receive 60 points, making your NEXT session 1/2 priced! Book two friends and receive 120 points, making your next session FREE
Earn 120 points and pick out from selected jewelry or crystal medicine pouches.*
Tallying the Points:
120 points = FREE Consultation, Healing Session or Workshop (At the shop or online)
Monthly Drawing:
Each month one person will be selected to win a prize. To enter, all you need to do is refer a person to one of the sites and tell them to leave a comment or email or who sent them.
*Prizes will vary every month for crystal medicine pouches to crystal jewelry.
Drawing will be held at the end of each month. Prizes are subject to change.
If you have any questions, please feel free to email me at thechakradiva@gmail.com