This Prosperity Crystal Medicine Pouch includes powerful and useful gemstones specifically selected to help you attract the prosperity you need in your life.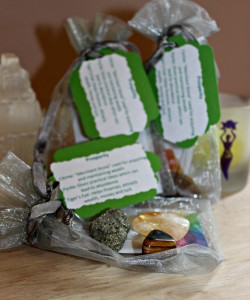 Each CMP includes the following:
Tiger's Eye: Used to help with finances, attracts wealth, money good luck
Pyrite: Gives practical ideas which can lead to abundance
Citrine: "Merchant Stone" used for acquiring and maintaining wealth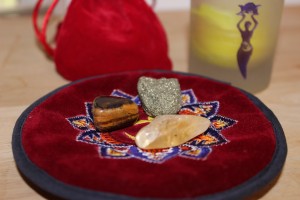 On that back of each card are suggested instructions on how to use your crystals. If you are searching for more tips and ideas, search the blog section of The Chakra Diva.
To activate your pouch, hold the pouch in your hands, eyes closed and focus on the prosperity you desire. Then simply follow the instructions on the pouch.
Remember, size does not matter when it comes to gemstones! They are powerful, big or small! They are all filled with the most amazing vibrations inside! They will go and heal wherever it is needed. With that being said, gemstones can vary in size and pouches will vary in size but never stones.
To purchase the Prosperity Crystal Pouch, click here.
US shipping only.