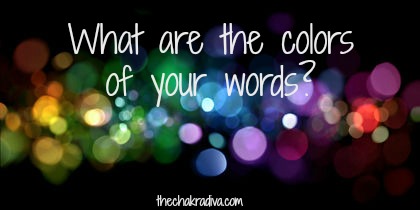 When I want to, I activate my super psychic powers and see colors.
I mean colors all around. Spirit guides, deceased people, auras, stagnant energy, stuck energy in people and some stuff I don't even know what it is yet…I go with the flow.
***
My bathroom, my shower time, is also my spiritual telephone room. This is where I make connections the most. I could tell you a million reasons why I love to meditate in the bathroom but we'll save that for another time.
First thing I do is check out my own aura – every day. I want to know what colors I got going on and see where any projected energy is coming in or where it's coming out of and really the status of my own body.
Yes, I have bad days too. I see gray in my aura or stagnant energy and I sigh. I sometimes have energy leaks myself – it's a reason why it's SO IMPORTANT to have a ritual to protect and cleanse out your aura daily.
Cleansing my aura is done after bushing my teeth…just before I get in the shower. It's like clockwork. Brush teeth. Aura Check. Aura Cleanse. Shower time.
When I'm in the shower colors shoot out and I talk with my awesome guides and we get the day down together. It has become the space where I go through my agenda before the day begins and ask what I should and shouldn't do. Where am I spending my energy at … is it a good cause etc.
So, while I was in my meditation space, I was looking at beautiful colors of purple and red come in and out. I was watching my feet glow vibrant green and then I heard a loud thud.
OMG.
My child.
I called out of shower but she didn't answer. I yelled louder but I could only hear the television playing.
Then I YELLED.
As I did, I saw gray bubbles fly all around. I just put out a bunch of energy in shots and it was not pretty.
Actually it was quite ugly. My daughter was good. She was stomping around the house with her BIG MONSTER feet…
But it got me to think. Since I saw the energy of my words swinging out in big ugly gray bubbles – can you imagine all the junk that was on my walls already?
This was a gift. A gift to visually see and know that whatever energy we put out into the Universe is there. It's flying around. It's sticking to the walls, it's in the air as we walk, it's there.
A lot of times we don't think about our words. We say them and move on. Sometimes they are inspired by a lot of emotion and other times just because we want to interject our own opinion.
When you speak, what kind of energy is in your words? Are they loving and caring? Would the energy following your mouth be rosy pink or maybe in charge and royal blue? Maybe ugly gray like mine. (Ew!)
If your walls could speak and repeat all the words, good or bad that was said in your home, what would it tell you? What color would your walls be?
I highly recommend cleansing your house. The energy needs to cleansed. It really truly does.
How do you do this?
The classic sage works quite well or sound…or even chanting and drumming. I'm a sage girl all the way through.
Today when you speak, take note of what kind of color would come with this. Are you cheering up your friend and a ray of yellow sunshine? Or are you demanding and red? What kind of energy are you giving out today?
Love and Light,
Amber